Used mainly as original equipment on many of today's sport coupes and sedans, the Goodyear Eagle RS-A tires feature an attractive asymmetrical tread design and adequate performance.
The tire's strong shoulder tread blocks and wide lateral grooves contribute to good handling in most weather conditions. In fact, grip on dry pavement is quite good.
The tire sports the M+S designation, so it is designed to tackle winter weather conditions as well, although we have heard many drivers complain about the lack of traction and handling on snow covered roads.
The ride quality is ok. You don't get a lot of road noise, but bumps will let you know the tires are not a luxury touring style for sure.
Overall, the Goodyear Eagle RS-A delivers adequate performance, but there are other models in this class that we would recommend above particular tire. We would also like to see a mileage treadlife warranty with this tire.
Price Range
Prices range from around $115 for the 15 inch series tires to approximately $180 on the 20 inch series tires. If we have a valid Goodyear coupon for this tire, it will be shown below the text. You can find other tire brands coupons here
Who Are Goodyear Eagle RS-A Tires Designed For?
The Goodyear Eagle RS-A tires are for drivers of sports cars and sedans who are seeking a tire with an attractive tread design to go with adequate handling and performance in all season driving conditions.
Goodyear Eagle RS-A Tire Sizes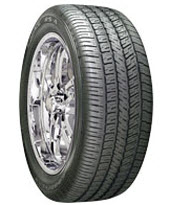 16″
205/55R-16 89H TOY B
205/55R-16 91H BSW
P225/55R-16 94H CAD
17″
P215/45R17 87W TOY B
P215/55R17 93V MIT B
P225/50R-17 93V MIT
225/50R-17 94W BMW B
P235/55R-17 98W CAD
18″
P225/45R18 91V FRD B
P235/45R18 94V B MIT
P235/50R-18 97W CAD
P235/55R-18 99V LEX
P245/45R18 96V NIS B
19″
225/45R-19 92W CHR B
P245/40R-19 94W BUI
P245/40R-19 94V NIS
20″
245/45R-20 99Y CHR B
245/45R-20 99V DGE B
P245/50R-20 102H TOY
Pros
Provides good traction on dry pavement
Ride comfort is good
Cons
Tread life could be better
Numerous owners have complained about wet traction as well as grip on snow covered roads
No mileage warranty
Warranty
Goodyear does not provide a mileage treadlife warranty on the Goodyear Eagle RS-A. However, you will find a tire uniformity guarantee for 6-months or the first 2/32 inch of wear.
Materials and workmanship are guaranteed for 6 years and include a free replacement during the first year or first 2/32 inches of wear. This is followed up with a prorated amount down to the final 2/32 inches of useable tread on the tire.
Goodyear Eagle RS-A Tire Coupon