The Goodyear Eagle NCT5 tire comes as original equipment on many of today's cars and light trucks. As a summer touring tire, the NCT5 has a sporty tread design that delivers solid traction and handling on dry and wet road surfaces.
Ride comfort is enhanced through Goodyear's computer tire technology. The tread compound of the tire provides for a longer tread life than many similar models.
Price Range
Prices on the Goodyear Eagle NCT5 tire range from a low of around $150 for the 16 inch series to $250 and up for the larger 21 inch series tires. If we have a valid coupon for this tire, it will be shown below the text. You can find other tire coupons here or here.
Who Are Goodyear Eagle NCT5 Tires Designed For?
Goodyear has designed the Eagle NCT5 tires mainly for original equipment replacements, but they are also available for use on other makes and models of cars and light trucks for those looking for a tire that handles well on dry pavement and has a comfortable ride.
Goodyear Eagle NCT5 Tire Sizes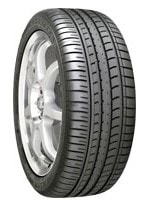 205/55R16
215/55R16
205/50R17
215/50R17
225/45R17
245/45R17
245/40R18
255/50R21
285/45R21
Pros
Very good treadwear
Above average grip on dry roads
Comfortable riding tire
Cons
Wet road handling
Road noise
Lack of treadlife warranty
Warranty
Goodyear tires backs up the Eagle NCT5 tire with a 6 month or first 2/32 inch of wear guarantee on tire uniformity. They do not provide for a tread life guarantee on this model.
Materials and workmanship is warranted for 6 years and includes free tire replacement during the first year or first 2/32 inch of tread life, followed by a prorated amount for the remaining time period, down to the final 2/32 inch of useable tread.
Goodyear Eagle NCT5 Tires Coupon