Designed for luxury performance vehicles, the Goodyear Eagle F1 Asymmetric tire delivers on the promises it makes. With the latest in Goodyear's proven tire technology, this model has a lot to offer.
As the name of the tire suggests, the tread sports an asymmetric design, an innovation with an outer tread for good grip, while the inner part assists in traction on wet roads.
The asymmetric belt and sidewall design contributes to incredible grip over a wider contact patch on the tire. While cornering the vehicle, it will roll over to the sidewall of the tire which will become triangular shaped with one side becoming a contact patch. This in turn will give amazing grip due to the larger cornering section on the tire. Whether you drive on dry roads or in wet weather, the tire gives you added confidence in knowing it's going to handle whatever you throw its way.
Something you will definitely notice is how quiet the ride is on this model. This is due in part to the variably sized and pitched tread blocks to go along with continuous ribs around the circumference of the tire. The tire has a softer sidewall and with it you get more predictability since your vehicle will cut into corners nicely instead of rolling into them. The tire is perfectly suited for your daily ride. The strong center rib, however, ensures that you have good stability while driving.
Goodyear has also used its Active Cornergrip Technology for equal distribution of pressure even at high speeds with the help of an Aramid layer inside the sidewall. The only part of your vehicle in contact with the road is your tire and the more contact it has with the road the safer you are at high speeds.
The Eagle F1 has a high silica content which results in better tread life and enhanced grip compared to tires in its segment including the Michelin PS2. The tire also has a Rim Protector, a useful feature to keep your alloy wheels safe while parking against the curbs.
Overall, the Goodyear Eagle F1 Asymmetric provides superior handling and cornering to go along with a smooth and quiet ride. Yes, these tires cost a bit more than other models in this class, but their performance offsets the expense. Based on reviews by other tire owners, we are not alone in this observation.
Price Range
Prices for the Goodyear Eagle F1 Asymmetric tires range from around $310 for the 18 inch series tires. Get the best price with coupon below, or find other Goodyear tires coupons.
Who Are Goodyear Eagle F1 Tires Designed For?
Goodyear has designed the Eagle F1 Asymmetric for drivers of high performance sedans and sports cars who seek high performance cornering and grip on all types of road surfaces and conditions, as well as quiet and more comfortable ride.
Goodyear Eagle F1 Asymmetric Tire Sizes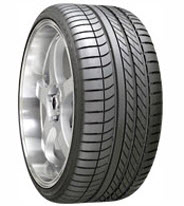 18″
245/45R-18 100Y XL B
265/35R18 XL 97Y BSW
Pros
Superior grip on dry pavement and equally as impressive on wet
Cornering and steering response is awesome
Ride is smooth and very quiet for a tire in this class
Cons
Warranty
Goodyear does not have a mileage warranty on the Eagle F1 Asymmetric tires. You will however find a tire uniformity warranty of 6 Months or the first 2/32 inches of wear.
Materials and workmanship are backed for 6 years with a free replacement in the first year or first 2/32 inches of wear. Goodyear prorates the remaining time period down to the final 2/32 inches of the remaining depth.
Finally, you get a 30 day test drive whereby you can exchange the tires for a different Goodyear tire if you are not satisfied. A 2 year roadside warranty is also included.
Goodyear Eagle F1 Asymmetric Tire Coupon