Goodyear Assurance CS Fuel Max tires not only offer excellent traction on wet or dry roads, but with a lower rolling resistance they can also increase fuel economy, which saves you money at the gas pump.
Unique inboard and outboard dry tread zones enhance dry pavement cornering and handling. On the flip side, Goodyear's wet tread zone features added grooves and more sipes to remove more water from under the tire and prevent hydroplaning. It also provides more biting edges for getting through the snow safely, which gives you more confidence behind the wheel.
Inside the tire, you will find twin steel belts for added strength and stability, as well as better tread wear, and a polyester cord body for a smoother driving experience.
Overall, the Goodyear CS Fuel Max is a nice all-season model that not only provides solid performance, but gives a smooth comfortable ride and some added fuel mileage as well.
Price Range
Prices on the Goodyear CS Fuel Max range from around $141 for the 16 inch series to approximately $197 for the larger 19 inch series model. If we have a valid coupon for this tire, it will be shown below the text. You can find other Goodyear tire coupons here or here
Who Are Goodyear Assurance CS Fuel Max Tires Designed For?
The Goodyear Assurance CS Fuel Max is designed for drivers of SUV's, Crossovers and pickup trucks who want a long lasting tire that also performs well on wet or dry roads and provides added fuel economy as well.
Goodyear Assurance CS Fuel Max Sizes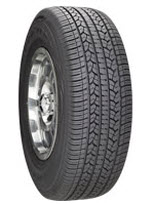 225/70R16
235/70R16
245/70R16
245/75R16
255/70R16
265/70R16
215/70R16
265/75R16
225/65R17
235/60R17
245/65R17
265/65R17
235/55R18
235/65R18
245/60R18
255/55R18
255/70R18
265/60R18
265/65R18
265/70R18
245/55R19
Pros
Very good all-season traction and handling
Smooth comfortable riding tire
Increased mpg with lower rolling resistance
Long tread life
Cons
Some have said tires may get noisy when close to being worn out
Warranty
The Goodyear Assurance CS Fuel Max has a 6 year or 65,000 mile warranty (whichever comes first), to go along with a tire uniformity warranty for 6 months or the first 2/32 inches wear.
Goodyear Tires also provides a materials and workmanship guarantee for 6 years, which includes free tire replacement during the first year or first 2/32 inches of wear. This is followed up with a prorated amount down to the final 2/32 inch of useable tread depth on the tire.
Goodyear Assurance CS Fuel Max Tire Coupon