The Goodyear Assurance ComforTred Touring Tire gives drivers a solid all-season tire that has excellent road characteristics to go along with a much smoother and quieter ride. Toss in an 80,000 mile treadlife warranty and you have a tire that is designed to last you for more than a few years.
This all-season tire sports an asymmetric tread pattern that features a unique "Comfort Layer" inside the tread that gives this tire 20% more cushion than other standard passenger car tires provide. The difference is very noticeable. It is like wearing a new pair of sneakers with added cushioned insoles. You feel so much more comfortable walking and running. The same applies to this tread compound.
Performance on wet or dry roads is remarkable. Wider circumferential grooves along with added sipes and notches help displace water and reduce the risk of hydroplaning, while improving traction and handling.
Inside the tread the Goodyear ComforTred has twin steel belts that are nylon wrapped, and a polyester cord body that provides more strength and stability at higher speeds, as well as a smoother ride. With either a 70,000 mile or 80,000 mile tread warranty depending on tire speed rating, it comes in at an outstanding value for anyone who is looking for an all-season touring.
Overall, Goodyear Assurance ComforTred Touring tires are one of the best in their lineup. It is also our choice as the #1 touring tire among all brands. Traction and handling is excellent, regardless of whether the roads are dry or wet, and riding comfort is superior. Equally impressive is the value for the money with the long tread warranty that comes with this model.
Price Range
Prices for the Goodyear Assurance ComforTread range from approximately $95 for a 15″ series tire to around $190 for the 18″ series models. Here you cand find all coupons for tires or some specific Goodyear tire coupons.
Who Is The Goodyear ComforTred Touring Tire For?
The Assurance ComforTred Touring Tire by Goodyear is designed to meet the needs of drivers of all makes and models of coupes, sedans and minivans, who are looking for a long lasting tire that provides above all season traction and average ride and comfort.
Goodyear Assurance ComforTred Touring Tire Sizes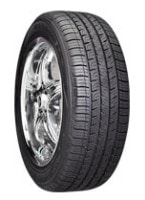 185/65R15
195/60R15
195/65R15
205/60R15
205/65R15
215/70R15
205/55R16
205/60R16
215/55R16
215/60R16
215/65R16
225/55R16
225/60R16
225/70R16
235/60R16
235/65R16
205/50R17
215/50R17
215/55R17
215/60R17
215/65R17
225/50R17
225/55R17
225/60R17
225/65R17
235/45R17
235/55R17
235/60R17
235/65R17
225/50R18
225/55R18
235/55R18
235/60R18
245/45R18
Pros
Dry pavement traction and cornering is excellent
One of the most comfortable riding touring tires you will find
Wet traction and hydroplane resistance is impressive
Tire warranty is among the best on the market today
Cons
Hard to find any fault in this model
Warranty
Goodyear warrants the Assurance ComforTred Touring tire with a 6 year or 70,000 mile guarantee on the tread life for V speed rated tires, and 6 years or 80,000 miles on tires with a speed rating of H or T. You'll also find 6 months or first 2/32 inch of tread wear for the tire's uniformity.
Materials and workmanship are backed for 6 full years and include free tire replacement during the first year, or the first 2/32 inch of tread wear. Goodyear follows that up with a prorated amount for the remaining time period or until you get to the final 2/32 inch of useable tread life.
Finally, you also get Goodyear's 30-day test drive guarantee, whereby you can exchange the tires for a different Goodyear model if you are not totally pleased, and there is a 2 year roadside service in the event of a tire failure. All in all, this is one of the better tire warranties on the market today.
Goodyear Assurance ComforTred Touring Tire Coupon