The Firestone Precision Touring tire features the all-season performance that drivers want in a tire, along with a tread compound that offers a much smoother and more comfortable ride on the highway. The silica added into the symmetric tread design enhance the performance and handling, while circumferential grooves improve traction on rain soaked roads.
High tensile steel belts in this radial tire give it excellent strength and durability. In fact, Firestone has a 70,000 mile warranty on the tread, giving this tire a good value for the money. All season traction means added confidence when driving in wet and dry roads, as well as light snowy conditions.
Price Range
The Firestone Precision Touring tire ranges in price from approximately $75 for a 15″ series, to around $165 for a larger 17″ series tire. Below you can find Firestone tire coupon.
Who Are Firestone Precision Touring Tires Designed For?
Firestone has designed the Precision Touring Tire for drivers of all types of coupes, sedans, minivans and other vehicles who are looking for solid performance and comfort out on the road.
Firestone Precision Touring Tire Sizes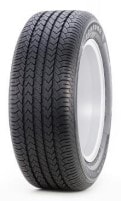 195/60R15
195/65R15
205/60R15
205/65R15
205/70R15
215/60R15
215/70R15
195/55R16
205/55R16
205/60R16
215/55R16
215/60R16
215/65R16
225/60R16
215/55R17
225/55R17
225/60R17
225/65R17
235/55R17
235/60R17
Pros
Very comfortable ride
Traction is above average on both wet and dry roads
Solid overall performance at a very good value
Cons
Tire could be quieter
Warranty
Firestone tires backs up the Precision Touring tire with a 5-year or 70,000 mile treadlife guarantee. You'll also find a first 1/32″ of wear uniformity guarantee, a 5-year materials and workmanship warranty. This provides for free replacement for the first 3 full years, followed by a prorated guarantee for the remaining period. Currently, Firestone also has a 30 day buy it and try it guarantee.
Firestone Precision Touring Tire Coupon