The Firestone FR710 tire is an all season radial that is M+S rated and provides drivers with an economical replacement to their original equipment tires. The tire itself features a tread design that provides for reliable handling and traction dry pavement, as well as rain covered roads due to the L.L. Carbon black that is built into the tread compound.
You can get this Firestone model in H, S or T speed ratings, and it comes in most all widths and heights. With a wider footprint and UNI-T construction, this tire will suit most tastes. Because this tire is so economically priced, it makes it an ideal option for those on a tight budget. And with a 65,000 mile tread warranty it also is a very good value.
Price Range
Prices on the FR710 tires range from a low of around $70 for the 14″ series, to upwards of $150 for the much larger 17 and 18 inch models. Below is coupon for this tire. Here you can find more Firestone tire coupons.
Who Are Firestone FR710 Tires Designed For?
Firestone has designed the FR710 primarily as an original equipment replacement tire on coupes, sedans, minivans and other types of vehicles for drivers looking for an all-season radial tire with good tread wear and value for the money.
Firestone FR710 Tire Sizes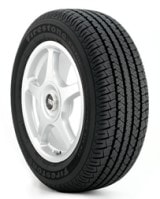 175/65R14
185/65R14
185/60R15
185/65R15
195/60R15
195/65R15
205/65R15
205/70R15
215/65R15
215/70R15
205/50R16
205/55R16
205/60R16
215/60R16
215/60R16
215/65R16
225/60R16
235/60R16
235/65R16
215/55R17
215/60R17
215/65R17
225/50R17
225/55R17
225/60R17
225/65R17
235/55R17
235/60R17
225/60R18
Pros
Dry pavement handling and traction is excellent
Ride comfort is very good
Above average in noise comfort
Tire is a good value for the money
Cons
Snow handling and traction is about average to a little below
Warranty
Firestone tires backs up the FR710 with a 5 year or 65,000 tread wear warranty. You can also expect to find a first 1/32″ of wear uniformity guarantee, as well as a 5 year guarantee on materials and workmanship. It provides for free replacement for the first 3 years as long as there is at least 2/32″ of useable tread left on the tire.
Firestone also includes a 30 day buy it and try it guarantee whereby you can either get a full refund or exchange the tires for another Firestone tire.
Firestone FR710 Tire Coupon