Firestone Firehawk Wide Oval tires are one of the most popular models among sports car and sedan owners today. This is due to good reasons; the tire features performance and handling that is among the best in the business.
The Firestone Wide Oval has been around for many years, but now the company has used the latest in technology and developed this new model into an awesome performer in both wet and dry weather conditions.
On the outside, the aggressive directional tread design features L.L. Carbon that is silica enhanced to give it improved handling. For better wet road traction. lateral and circumferential grooves help reduce the risk of hydroplaning and keep the tire going in the direction you intended.
A unique O-Bead built inside the tire makes for a better ride, and UNI-T technology combines manufacturing elements to produce a more efficient tire. For world class performance, the Firestone Firehawk Wide Oval doesn't disappoint.
Price Range
Prices on the Firehawk Wide Oval range from around $110 for the 16 inch tire to around $140 for the larger 17 inch model. Find coupon below and here are more coupons
Who Are Firestone Firehawk Wide Oval Tires Designed For?
As you might expect, the Firestone Wide Oval Firehawk is designed for high performance sports cars and sedans where drivers want the ultimate in performance handling and durability, regardless of whether the roads are wet or dry.
Firestone Firehawk Wide Oval Tire Sizes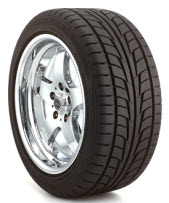 Pros
Superb dry and wet pavement traction and cornering
Tread wear is excellent for a high performance tire
Ride comfort is surprisingly good for this type of tire
Cons
Would like to see this tire available in more sizes
Warranty
Firestone Tires does not provide a tread life guarantee on the Firehawk Wide Oval tire. This is pretty much the industry norm for high performance summer tires. However, you will find a first 1/32 inch of wear on tire uniformity.
A 5-year guarantee on materials and workmanship is included which provides for free tire replacement during the first 3 years, followed by a prorated amount the last 2 years, down to 2/32 inch of useable tread life.
Firestone Firehawk Wide Oval Tire Coupon