There is no question that for more years than I can remember, Firestone and the Indianapolis 500 race have went together like a great marriage. It was only natural that Firestone would come out with a Firehawk Indy 500 tire that has some serious technology in the tread design.
You'll find Firestone's UNI-T technology in this S and T speed rated tire. It's an all-season tire that provides for both wet and dry pavement performance and handling. Firestone has a very nice tread design pattern on this Firehawk Indy 500 tire that really speaks those looking for special tire such as this.
Price Range
You can find this Firestone tire in prices that range from a low of around $85 to around $150, depending on the size you need. You can use Firestone tire coupon below and get the best possible price for this tire.
Who Is The Firestone Indy 500 Tire For?
As you might expect from a tire like this, Firestone has designed it for tire enthusiasts who own sport coupes, sedans, or light trucks, and are looking for a unique one of a kind all season tire that reflects the Indy racing legacy.
Firestone Firehawk Indy 500 Tire Sizes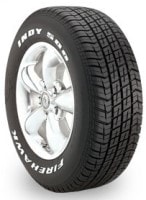 215/70R14
225/70R14
215/70R15
225/70R15
235/70R15
255/70R15
215/65R15
235/60R15
255/60R15
275/60R15
295/50R15
Pros
Excellent tire for sports cars and older muscle cars
Solid grip and handling around corners
Very good value for the money
Cons
Very limited in number of sizes available
Warranty
Firestone offers a 5 year/55,000 mile treadlife warranty on this Firehawk Indy 500 tire. In addition, there is a one year/first 1/32″ uniformity wear warranty, as well as a 5 year/3 year free replacement, prorated for remainder on materials and workmanship.
Firestone Firehawk Indy 500 Tire Coupon