The Firestone Affinity Touring tire offers up a smoother ride and longer lasting tread life than many competitor tires in its class. Utilizing some of the latest in tire technology, Firestone has tried to give luxury car owners good performance and handling, along with a more comfortable ride.
The tire itself sports Computer Optimized Component System (COCS) which optimizes not only the tread design, but the entire process of shaping the casing and constructing the tire. They've added a silica enhanced tread compound to give more traction and grip on wet roads. Combine that with diagonal and lateral sipes, and you get a tread design that should take on all types of weather conditions.
Inside the tire you'll find twin steel belts with a polyester cord body for more strength and durability at higher speeds, as well as more even wear and a better overall ride. L.L. Carbon provides a longer tread life on the Affinity Touring.
Overall, Firestone has designed a solid touring tire. We only wish it held up better in wet or winter road conditions. If that is not an issue where you live, then this tire may make a good choice.
Price Range
Prices on the Firestone Affinity touring range from around $70 for the 14 inch series to $195+ for the much larger 17 inch tire models. At the end of article is coupon for this tire and here you can find some other coupons.
Who Are Firestone Affinity Touring Tires Designed For?
Firestone has developed the Affinity Touring for drivers of higher end luxury coupes and sedans who are looking for all-season handling, yet ride comfortably and provide a good tread life.
Firestone Affinity Tire Sizes
P195/70R14
P185/65R14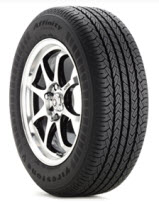 P205/70R15
P215/70R15
P185/65R15
P195/65R15
P205/65R15
P215/65R15
P195/60R15
P205/60R15
P215/60R15
215/65R16
P205/60R16
P215/60R16
P225/60R16
195/55R16
P205/55R16
215/55R16
P215/65R17
P225/65R17
235/65R17
P225/60R17
235/60R17
P215/55R17
P225/55R17
P235/55R17
P215/50R17
Pros
Dry road traction and handling is good
Riding comfort is on par with other models in its class
Very good tire warranty
Cons
Winter weather and wet pavement traction is below average
Warranty
Firestone Tires warrants the Affinity Touring for 5 years or 50,000 miles. There is also a first 1/32 inch of wear guarantee on the tire's uniformity.
Materials and workmanship are guaranteed for 5 years and includes free tire replacement during the first 3 years. This is followed up with a prorated warranty for the final time period or until there is 2/32 inch of useable tread life left.
You'll also get Firestone's 30 day buy and try guarantee which provides you the opportunity to refund or exchange the tire with another Firestone brand.
Firestone Affinity Touring Tires Coupon