Falken Ziex ZE-912 tires are designed to not only provide improved traction in all season driving, but also give you increased performance and cornering that increase confidence and make driving more fun. With a budget friendly price, the ZE-912 is nice on the wallet.
The tire itself features a unique hybrid asymmetric tread pattern that increases handling performance on dry roads. High angle variable cross grooves work to reduce the road noise and improve driver comfort.
Four wide circumferential grooves combine with deeper sipes to reduce the risk of hydroplaning and evacuate more water from under the tread. Rotation Wear Indicators make it easy to know when to rotate the Falken ZE912.
Inside the tire you'll find twin steel belts with a nylon cap ply for better stability at higher speeds and during aggressive cornering. With either a 40,000 or 65,000 mile treadwear warranty, the Falken Ziex 912 is built to perform. Overall, the 912 is a good choice in all-season tires for drivers who also want a little extra cornering power in their daily driving.
Falken Ziex ZE-912 Tires Price Range
Prices on the Falken ZE-912 tires range from around $78 for the 14 inch series to approximately $199 for the 19 inch model. Print coupon for this tire and save some bucks, or read other Falken tire reviews
Who Are Falken Ziex ZE-912 Tires Designed For?
Falken has developed the Ziex ZE-912 for all types of coupes and family sedans for drivers looking for all season traction and spirited performance on all types of roads at a price point that will not break the budget.
Falken Ziex 912 Tire Sizes
185/60R-14
185/65R-14
195/60R-14
195/65R-14
175/65R-15
185/60R-15
185/65R-15
195/50R-15
195/55R-15
195/60R-15
195/65R-15
205/50R-15
205/55R-15
205/60R-15
205/65R-15
205/65R-15
215/60R-15
215/65R-15
225/50R-15
225/60R-15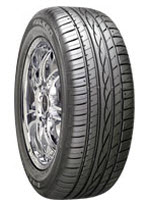 195/50R-16
195/55R-16
205/40R-16
205/45R-16
205/50R-16
205/55R-16
205/60R-16
205/60R-16
205/65R-16
215/50R-16
215/55R-16
215/60R-16
225/50R-16
225/50R-16
225/55R-16
225/60R-16
235/60R-16
235/65R-16
245/50R-16
245/50R-16
205/40R-17
205/45R-17
205/50R-17
215/40R-17
215/45R-17
215/50R-17
215/55R-17
215/65R-17
225/45R-17
225/50R-17
225/55R-17
225/65R-17
235/45R-17
235/50R-17
235/60R-17
245/40R-17
245/45R-17
255/40R-17
215/35R-18
215/40R-18
215/45ZR-18
215/55R-18
225/40R-18
225/45R-18
225/50R-18
225/55R-18
235/35R-18
235/40R-18
235/45R-18
235/50R-18
235/65R-18
245/40R-18
245/45R-18
P255/65R-18
265/35R-18
P255/60R19
Pros
Very good dry cornering and handling
Wet pavement traction is solid
Budget friendly price point
Cons
Treadlife could be improved
Warranty
Falken Tires backs the Ziex ZE-912 with a 65,000 mile treadwear warranty on 60 or 65 series tires, and 40,000 miles on 55 and below series tires. There is also a first 2/32 inch tire uniformity guarantee.
Materials and workmanship are guaranteed for the life of the tread regardless of age. This is down to the last 2/32 inch of useable tire life on the tread.
Falken Ziex ZE-912 Tire Coupon