Falken Ziex ZE-512 tires combine all-season performance with a comfortable ride to make it one of the best selling tires on the market today. The Falken 512 sports a directional tread design, high performance characteristics and an availability in all sizes down to a 30 series tire.
The outside of this tread design features 5 circumferential grooves and a multi-radius shape to give it enhanced traction and handling on wet road surfaces. You'll also find variable shoulder blocks to reduce road noise and a unique tread compound to give the tires a smooth comfortable ride.
Falken has added a rim protector to the outside of the tire in order to prevent damaging your custom wheels. On the inside of the tire you'll find two wide steel belts for added strength and stability at higher speeds.
Overall, Falken has developed a solid all-season tire that combines some really nice performance features to go along with good ride characteristics and a long tread life. It's easy to see why it's such a popular choice with drivers.
Falken Ziex ZE-512 Tires Price Range
Prices on the Falken Ziex 512 range from around $55 for the 14 inch models to upwards of approximately $175 for the much larger 18 inch tires. Find here more Falken tire reviews and coupons, or discounts for other tire brands.
Who Are Falken Ziex ZE-512 Tires Designed For?
Falken has designed the Ziex ZE512 tire for drivers of all types of coupes and sedans who are looking for all-season traction and handling. The high performance version is ideal for enthusiasts looking for more out of their tires on the street.
Falken Ziex ZE512 Tire Sizes
175/65R-14
185/60R-14
185/65R-14
195/60R-14
195/65R-14
205/60R-14
185/65R-15
195/50R-15
195/55R-15
195/60R-15
195/65R-15
205/50R-15
205/55R-15
205/60R-15
205/65R-15
205/65R-15
215/60R-15
215/65R-15
225/50R-15
225/60R-15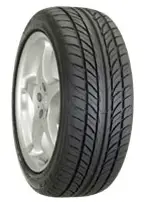 195/50R-16
205/40R-16
205/45R-16
205/50R-16
205/55R-16
205/60R-16
205/65R-16
215/55R-16
215/60R-16
225/40ZR-16
225/45ZR-16
225/50R-16
225/50R-16
225/55R-16
225/60R-16
225/60R-16
235/55R-16
235/60R-16
245/50ZR-16
255/50ZR-16
205/40ZR-17
205/45ZR-17
205/50R-17
215/40ZR-17
215/45ZR-17
215/50R-17
215/55R-17
225/45ZR-17
225/50R-17
225/55ZR-17
235/45ZR-17
235/50ZR-17
235/55R-17
245/45ZR-17
255/40ZR-17
255/45ZR17
275/40ZR-17
215/35ZR-18
215/40ZR-18
225/40ZR-18
225/60R-18
235/40ZR-18
235/50R-18
235/55R-18
245/40ZR-18
245/45ZR-18
255/35ZR-18
255/45ZR-18
265/35ZR-18
Pros
Handling and traction are very good
Good value for the money
Tire is surprisingly quiet
Treadwear guarantee is excellent
Cons
A few drivers have said the tires can be noisy as the tread wears down, but others say the tires are fine
Warranty
Falken tires backs up the Ziex ZE 512 tire with a variable treadwear guarantee. Tires in the 60 and 65 series models are backed with a 65,000 mile treadlife warranty. Models in 55 and lower series have a 40,000 mile guarantee. Considering the high performance characteristics of this tire that is a nice mileage guarantee. We've seen others in this class without a treadlife warranty entirely.
You will also find a 30 day satisfaction guarantee as well. Buy them and drive on them the first month, and if you are not satisfied you can return and exchange them out.
Falken Ziex ZE-512 Tire Coupon