The Falken Sincera SN-828 tire has been the company's answer to an affordable all-season tire for everyday driving needs. There's really nothing spectacular about the tread design, but that is not what this tire is all about anyway. If you are driving a small to mid-size car for commuting needs, you are not likely looking for a high performance tire that costs much more than a set of these Falkens.
The tire itself utilizes silica in the tread compound to help in wet weather driving, as well as give it more durability. The tire is noticeably comfortable to drive on, and Falken has added a 5-phase shifted pitch variation that reduces tire noise out on the open road.
One of the more unique aspects with regards to the Falken Sincera 828 is the "special eyes" built into the face of the tread. These depressions split the tread life into thirds. They change their shape as you drive on them over time. The depressions start out being a circle, but as you add miles to them they change to a square, which lets you know it's time to rotate them to optimize tread life. The next time around the depressions will completely disappear, letting you know it is once again time to rotate the tires.
Overall, the Sincera SN-828 is an average all-season tire. It rides comfortably and handles well on dry pavement. It could do better in the rain though, and tread life could be improved on.
Falken Sincera SN-828 Tires Price Range
Prices on the Falken SN828 range from around $60 for the smaller 13 inch series to approximately $100-$115 for the larger 16 inch series tires. Below you can find Sincera SN-828 coupon, another Falken tires review here or you can try other tires discounts here and read reviews.
Who Are Falken Sincera SN-828 Tires Designed For?
Falken tires has designed the Sincera SN-828 tire for drivers of small to mid-size cars, as well as compact cars, who are looking for an inexpensive all-season radial that handles well and rides comfortably.
Falken Sincera SN-828 Tire Sizes
175/70R-13
185/70R-13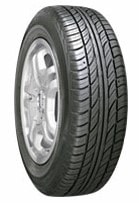 175/65R-14
175/70R-14
185/65R-14
185/70R-14
195/65R-14
195/70R-14
185/65R-15
195/65R-15
205/65R-15
205/70R-15
215/65R-15
215/70R-15
P225/70R-15
P205/55R-16
P215/60R-16
P215/65R-16
225/60R-16
Pros
Tires handle well on dry pavement
Ride comfort and noise level are good
Tires are a fairly inexpensive option and provide solid value for the money
Cons
Wet road grip
Tread life could be better
Warranty
Falken tires backs up the Sincera SN828 with a 50,000 mile treadwear guarantee. You'll also find they cover materials and workmanship for 5 years as well.
Falken Sincera SN-828 Tire Coupon