Falken Rocky Mountain ATS tires are designed to go anywhere you want to go. By that I mean these Falken tires can take you down the highway on a weekend trip through any type of weather conditions, or give you an exhilarating day of off-road performance, all with the comfort and assurance you would expect.
The tire itself sports four wider and multi-angled grooves that work to evacuate more water, snow and mud from under the tire and reduce the risk of hydroplaning or spinning out of control. Additional traction is provided by biting block edges that enhance grip regardless of whether it is snow, loose gravel or anything else you happen to be driving through.
One area that surprised us the most was how quiet and comfortable this tire is. You might expect to hear a lot of road noise, but this simply is not the case. This is due in part to the jointless nylon cap plies and the computer optimized tread design that Falken has used.
Where the Falken Rocky Mountain really excels is in its handling and response. Wider steel belts, a stiffer block design and a unique rib pattern combine to give this model superior performance on or off road. The strength and durability of the tread compound is a testament to why this tire is so popular. With a 50,000 mile tread warranty, Falken firmly stands behind this model.
Overall, this is a tire that does what it says it will do… and that's delivering some of the best performance and durability of any tire in its class. Once you drive on the Rocky Mountain ATS we're sure that you will agree. Falken has manufactured a winner with this tire.
Falken Rocky Mountain ATS Price Range
Prices on the Falken Rocky Mountain range from around $139 for the 15 inch series to approximately $611 for the massive 24 inch series tire. Get the best tire price with Falken coupon below, or find another Falken tire review or coupons here.
Who Are Falken Rocky Mountain ATS Tires Designed For?
Falken has designed the Rocky Mountain ATS for drivers of light trucks and SUV's like the Ford F-series trucks, Expedition, Chevy Silverado and Tahoe line, Nissan Titan, etc., who are seeking a tire that offers both highway all-season traction and comfort, as well as excellent off-road performance and durability, all with a 50,000 mile tread warranty.
Falken Rocky Mountain ATS Tire Sizes
235/75R15
30X950R15
31X1050R15
32X1150R15
33X1250R15
35X1250R15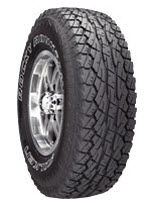 LT225/75R16
LT245/70R16
LT245/75R16
255/65R16
LT265/70R16
LT265/75R16
LT285/75R16
LT305/70R16
LT315/75R16
LT325/80R16
P235/70R17
245/65R17
LT245/70R17
LT245/75R17
255/65R17
255/70R17
265/65R17
LT265/70R17
P265/70R17
LT285/70R17
LT295/70R17
LT305/65R17
LT315/70R17
LT325/70R17
37X1250R17
P265/60R18
P265/65R18
265/70R18
LT275/65R18
285/60R18
LT285/65R18
LT305/65R18
LT325/60R18
LT325/65R18
37X1350R18
P275/55R20
275/60R20
285/50R20
LT305/55R20
LT325/60R20
LT355/60R20
LT325/50R22
37X1350R22
37X1350R24
Pros
Dry, wet or snow road traction and handling is far above average
Outstanding off road capabilities
Surprisingly comfortable and quiet riding tire
50,000 mile tread wear warranty
Cons
Tires can be expensive in larger sizes
Warranty
50,000 mile tread wear warranty
Falken Rocky Mountain ATS Coupon