Falken Eurowinter HS439 tires are built with sporty characteristics in tackling tough winter weather conditions. With the introduction of the Eurowinter HS 439, Falken has proved once again that it is a leading manufacturer of high performance tires, regardless of season.
The first thing you'll notice about the Falken Eurowinter HS439 is the asymmetrical tread design which adds stability on both wet or dry roads. The tire has four wide circumferential grooves and multi-angled sipes that evacuate more water from under the tire in wet weather. Snow or ice is pulled into the grooves and propelled away, while at the same time providing added grip to the vehicle.
The HS439 also provides maximum road contact and in challenging weather conditions, which makes driving much safer for you. Other tire owners have reported very good feedback from driving on these tires. Falken has incorporated a special silica compound which goes a long way in increasing tread life and maximizes performance across a range of temperatures. Unlike most winter tires, the Eurowinter HS439 is a very quiet tire, a fact that scores points for those who favor the use of winter tires.
The tire holds very well at higher speeds and also gives good feedback. The V speed rating of the Eurowinter HS 439 is good and is the same as the Pirelli 240 Sottozero and Blizzak LM-60.
Overall, the Falken Eurowinter HS439 winter tire provides excellent traction and grip on any surface and in all types of winter weather conditions you may face on the road, while also maintaining a quiet and comfortable ride.
Falken Eurowinter HS439 Tires Price Range
Prices on the EuroWinter HS439 range from around $89 for the 15 inch series to approximately $160 for 18 inch series tires. Get the coupon below (if exist), or find another Falken tire review or discounts.
Who Are Falken Eurowinter HS439 Tires Designed For?
Falken Tires has designed the Eurowinter HS439 for drivers of performance coupes, sedans, and wagons who seek a winter tire for handling adverse winter weather conditions that also provides a quiet and comfortable ride.
Falken Eurowinter HS439 Tire Sizes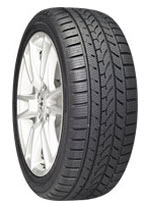 15″
185/65R-15 88T B
195/60R15 88H B
205/65R15 94H BLT
16″
215/55R16 93H B
17″
205/50R-17 93V XL B
18″
225/60R18 100H B
235/40R-18 95V XL B
235/50R-18 101V XL B
235/55R18 100H B
265/60R18 110V B
Pros
Good tire for varied winter conditions and excellent in cold weather
Quiet tire with very low noise at high speeds
Very good value for money
Cons
May not be ideal for warm weather since they are winter tires
Warranty
Falken backs up the Eurowinter HS439 with a material and workmanship warranty for the life of the original tread, to 2/32 inch of the remaining tread depth. If a tire becomes unserviceable due to such defect within the first 2/32 inch of tread wear it will be replaced free of charge. Prorated adjustment credit will be given based on percentage of remaining usable tread depth until 2/32 inch.
Falken Eurowinter HS439 Tire Coupon