Falken Azenis PT-722 tires are designed as ultra high performance all-season models that not only tract through all types of weather conditions, but also provide the kind of performance handling and cornering you would expect from a tire like this. As Falken's first model in this class of tires, it has all the right things going for it.
The tire itself sports an asymmetric tread pattern that includes longer lateral grooves and a unique rib groove that combine to give the PT722 more stability on wet roads with a reduced risk of hydroplaning, as well as preventing irregular wear. Treadwear indicators make it easy to know when to rotate your tires, which also increase the life of the tires.
Falken has specially developed wider steel belts with a jointless nylon cap and layer to add more strength and stability at higher speeds, while also improving wear and creating a smoother and more comfortable ride.
Overall, the Falken PT722 has a lot going for it. With excellent performance on wet or dry pavement, a long treadlife and a quiet, comfortable ride, this is one of the better choices in high performance all-season tires.
Falken Azenis PT-722 Tires Price Range
Prices on the Azenis PT722 range from around $118 for the smaller 16 inch series to approximately $235 for the much larger 20 inch series tires. Below you can find Azenis PT722 Falken tire discount or you can try another Falken reviews and tires discounts here.
Who Are Falken Azenis PT-722 Tires Designed For?
Falken has developed the PT-722 tire for drivers of sport coupes and sedans like the Mercedes C & E Class, Chevy Camaro, Honda Accord, BMW 3 & 5 series among many other vehicles, who want a high performance all-season tire that also rides comfortably and has a long lasting treadlife.
Falken PT-722 Tire Sizes
205/55R16
215/55R16
225/50R16
225/55R16
205/50R17
215/45R17
215/50R17
215/55R17
225/45R17
225/50R17
225/55R17
235/45R17
235/55R17
245/40R17
245/45R17
245/50R17
255/45R17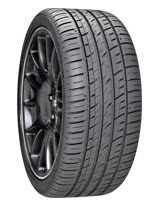 225/40ZR18
225/45ZR18
225/50R18
235/40R18
235/45R18
245/40R18
245/45R18
245/50R18
255/40R18
255/45R18
265/35R18
275/35ZR18
245/35ZR19
245/40ZR19
245/45ZR19
275/30ZR19
275/40ZR19
235/30ZR20
245/40ZR20
245/45ZR20
255/30ZR20
255/35ZR20
275/30ZR20
275/35ZR20
Pros
Excellent grip on either wet or dry road surfaces
Tires are very quiet and comfortable
Treadlife is better than expected
Cons
Deep snow traction could be a little better
Warranty
Falken Tires backs the Azenis PT-722 with two different mileage warranties based on AA rated sizes. There is a 40,000 mile treadlife warranty on 440AA rated sizes, and a 60,000 mile treadlife warranty on those rated 600AA.
Materials and workmanship are also covered for the life of the tire down to the last 2/32 inch of useable tread on the tire. The amount is prorated out based on treadwear.
Falken Azenis PT-722 Tire Coupon