The Cooper GFE tire is specially designed to provide much lower rolling resistance that will lead to better fuel efficiency. This is something that is quickly becoming more important with drivers as a way to fight skyrocketing fuel prices. With a T speed rating the GFE touring tire utilizes a silica technology in the tread compound to give it better handling on both dry and wet pavement.
A unique feature of this model is the traction compensating sipes that actually become longer as the tire tread lessens. This helps give the tire better performance on wet roads, and much improved bite in winter weather conditions. Special polymers in the tread compound also give this tire a 60,000 tread wear warranty.
Cooper GFE Tire Price Range
The Cooper GFE tire ranges in price from around $75 for a 14″ series, to approximately $115 for the 16″ series models. If we have a valid Cooper tire rebate coupon for GFE tire, it will be shown below the text. You can find all other tire discount coupons  or reviews here.
Who Are Cooper GFE Tires Designed For?
Cooper has designed the GFE for drivers of all types of economy cars, as well as other models of coupes, sedans and minivans who desire a tire that will maximize fuel mileage while still providing solid traction and comfort.
Cooper Tires GFE Tire Sizes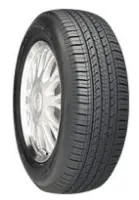 175/65R-14
185/65R-14
185/65R-15
195/65R-15
205/65R-15
215/65R-16
215/60R-16
225/60R-16
Pros
Excellent rolling resistance for better fuel economy
Treadwear is very good with this tire
Nice handling for a touring tire
Cons
Not as quiet as we would like to see
Warranty
Cooper tires covers the GFE tire with a 60,000 treadlife warranty in the U.S. There is also a 45 day road test guarantee that if you find you are not satisfied with the tires you can return them.
Cooper GFE Tire Rebate Coupon