If you own a pickup like the Dodge Ram, Chevy Silverado or the Ford F Series among other brands, and need a good performing winter driving tire, then the Cooper Discoverer M+S tire is designed for you. Made in either a studded or studless model, the Discoverer M+S is built to take on rough winter conditions and get you where you need to be.
When you look closely at the tire you will see that it has a tread design in a zigzag pattern. This pattern provides better overall handling on rough terrain, especially snowy surfaces. Cooper terms this feature the D-Squared D2 Sipe Technology, which combines wet traction along with traction on ice. With these characteristics the Discoverer M+S can handle snow and ice with particular ease.
Deep sipes on the tread contribute to the longevity of the tire and prove useful during the entire life of the tread. It also has a random pitch sequence for reduced tire noise. In fact the Discoverer MS is one of the quietest tires in its segment and this holds true on all types of surfaces.
One area this tire excels in is on snow covered roads. Cooper has incorporated its Snow-Groove technology to provide grip on deep snow and even on ice without compromising on stiffness of the tread element. The outer grooves have a unique property to retain snow on snow versus snow on road, which is an applied patented technology by Cooper Tires. Traction on ice is further helped with stud pin holes which improve retention of studs while driving on icy surfaces.
The ride quality of the tire is good even on highways at high speeds and it can handle corners pretty well.
Overall, the Cooper Discoverer M+S is a tire with a good compromise of cost, winter abilities and solid grip. What it lacks in dry pavement cornering it more than makes up for when the weather turns rough.
Cooper Discoverer M+S Tires Price Range
Prices for the Cooper Discoverer M+S range from around $95 up to approximately $185 for the 16 inch series tires. Get the best Cooper discount coupon below, or find other tires discounts and reviews here.
Who Are The Cooper Discoverer M+S Tires Designed For?
Cooper Discoverer M+S tires are for drivers of SUVs and light trucks who are seeking a premium winter tire for traction on snow, slush and wet covered road surfaces that will give you the performance you need to get you around.
Cooper Discoverer M+S Tire Sizes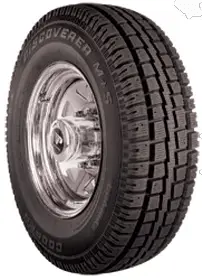 16″
215/70R-16 100S BSW
P225/70R-16 103S BSW
235/70R-16 106S BSW
LT245/75R-16/C1 104Q
LT245/75R-16/E1 116Q
255/65R-16 109S OWL
265/70R-16 112S BSW
LT285/75R-16/D1 112Q
Pros
Exceptional winter traction on snow and ice
Less noise even at higher speeds
Good stability and feel
Available in studded models
Cons
Cornering is a bit flat, but this is not a high performance tire
Warranty
Cooper Tires backs up the Discoverer M+S Tire with a limited warranty of 50,000 miles.
Materials and workmanship are covered for 5 years.