If you do a lot of highway and city driving, but also want a tire that you can take off-road, then you might like the Cooper Discoverer H/T tire. The HT (Highway Touring) is built to offer solid traction and performance in all types of year round weather conditions.
When you take a closer look at the Discoverer HT you will notice wider grooves on the tread surface. There are four circumferential grooves which provide a larger contact patch, giving it more traction on all types of road surfaces. The notches on the grooves are specially created to enhance the grip and control of the tire, even in wet or muddy surfaces. It reduces the risk of hydroplaning and adds more driver confidence behind the wheel. Notches on the shoulders also aid in traction on snow covered roads as well.
Another nice feature on the Cooper Discoverer HT is the zigzag design on its tread to go along with additional sipes created on the surface. The sipes ensure that water is flushed out from underneath the tire during heavy rain or in snow and slush conditions. It even holds its own on ice and does not disappoint.
What you'll also quickly find when riding on the Discoverer H/T is how quiet the tire is. In fact, Cooper has added the latest in tire technology to make this model one of the quietest tires in its class. The continuous center rib also helps reduce noise and improve response from the steering. Owners of the Cooper Discoverer H/T have appreciated the driving capabilities of the tire due to a great steering response.
Overall, the Cooper Discoverer H/T is a premium highway touring tire which performs well on the road in all-season conditions, while also providing a comfortable ride without all the road noise. It can also be taken off the beaten path for fun and recreation. Add in a 60,000 mile tread warranty and you have an excellent choice in tires.
Cooper Discoverer H/T Tires Price Range
Prices on the Cooper Discoverer HT range from around $125 for the 15 inch series tires to approximately $200 for the larger 17 inch series tires. Below you can find Discoverer H/T Cooper tire discount or you can try other tires discounts here.
Who Are Cooper Discoverer H/T Tires Designed For?
The Cooper Discoverer H/T Tire is for drivers of light trucks, crossovers and SUVs who are seeking a touring tire for varied conditions with a comfortable ride, reduced noise and a longer tread life.
Cooper Discoverer H/T Tire Sizes
P215/75R-15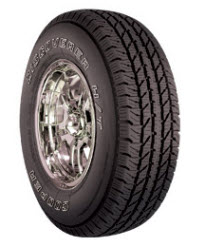 215/70R-16
P225/70R-16
LT225/75R-16
235/70R-16
LT235/85R-16
P245/70R-16
LT245/75R16
LT245/75R-16
P255/70R-16
P265/70R-16
LT265/75R-16
LT265/70R17
P265/70R17
LT265/70R-17
P265/70R-17
Pros
Good traction over snow and muddy surfaces is above average
Stability and control at high speeds is excellent
Very low road noise
60,000 mile tread warranty
Cons
May not be ideal for extreme off-roading
Warranty
Cooper backs up the Discoverer HT tire with a 60,000 tread warranty
Cooper Discoverer H/T Tires Coupon