The Cooper Discoverer ATR tire mixes a combination of all-terrain drivability with excellent all-season performance on all types of road surfaces.
The Discoverer ATR sports a five-rib design which makes it suitable for all terrains. The ribs provide support in a variety of terrains with the help of grooves around the circumference of the tire which are shaped like a sawtooth. This enables the vehicle to go through mud, gravel, sand and other types of rougher terrains.
A strong center rib pays the role of minimizing noise and making sure that the wear on the tread is even. Sipes on the tire has been designed in order to maximize traction on wet surfaces. The sipes have also been designed in a zigzag shape which is apparent if you take a close look at the tire. The zigzag pattern increases the ability of the tire to grip terrain, especially muddy or snowy terrain.
The Discoverer ATR really shines on rain-soaked roads. A silica compound in the tread provides outstanding grip on wet surfaces. Cooper has provisioned for an optimized polymer mixture which allows the silica compound to retain its abilities even at low temperatures. It also results in lower rolling resistance which in turn gives improved great fuel economy.
The tread extends into the sides of the tire and that means it has a larger contact patch suitable for softer surfaces like mud. This is especially useful for off-roaders who take their SUVs into muddy terrains.
Overall the Cooper Discoverer ATR provides excellent all-terrain performance with an exceptional grip on both dry or wet and snow-covered roads. Steering response is very good and outside road noise is minimal. The 50,000-mile tread warranty helps make this model a solid choice in all-season, all-terrain tires.
Cooper Discoverer ATR Tires Price Range
Prices for the Cooper Discoverer ATR range from around $140 for the 16-inch series ties to approximately $245 for the 18-inch series tires. If there is a valid Cooper rebate for this tire, it will be shown below. You can find here other tire discount coupons or reviews.
Who Are Cooper Discoverer ATR Tires Designed For?
Cooper Discoverer ATR tires are for drivers of light trucks, crossovers and SUVs who are seeking a tire that provides excellent grip on wet or dry roads, as well as optimum ride comfort and less noise.
Cooper Discoverer ATR Tire Sizes
16″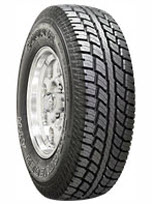 LT235/85R16E1 120R W
LT245/75R-16/E1 120R
P245/75R-16 111S OWL
LT245/75R-16/E1 120R
P255/70R-16 111S OWL
P265/70R-16 112T OWL
LT265/75R16E1 123R W
P265/75R-16 116S OWL
LT265/75R16/E1 123R
17″
LT265/70R-17/E1 121R
265/70R-17 115S OWL
18″
LT275/70R-18/E1 125S
Pros
Outstanding grip on wet surfaces
Excellent steering response and handling on both wet or dry surfaces
Equally as impressive on or off-road
50,000 mile tread warranty
Cons
May not be ideal for rocky or sandy surfaces
Warranty
Cooper backs up the Discoverer ATR with a 50,000 mile tread warranty. You'll also find a tire uniformity guarantee for the first 2/32 inch of wear.
Materials and workmanship are covered for 5 years.
Cooper Discoverer ATR Tire Coupon