The Cooper Cobra Radial GT tire is somewhat similar to the BFGoodrich TA model in that they both are popular among owners of older high performance muscle cars. That said, it still makes a good choice for current generation performance models as well.
Cooper tires provides for both standard and low profile tread designs, and the tire features above average traction on dry roads. Treadwear is good and the tire is not as noisy as you might expect from a performance tire. Traction and handling on wet roads is about average, as it is in winter conditions.
Cooper Cobra Radial GT Tires Price Range
The Cooper Cobra GT tire ranges in price from around $70 for a 13″ series, to upwards of $190 for a 17″ series model. Cut your cost with Cooper tire rebate coupon below, or find other discount tires coupons here.
Who Is The Cooper Radial GT Tire For?
As mentioned above, Cooper tires has designed the Cobra GT tire for owners of classic muscle cars who are seeking that distinctive look and feel for their vehicles.
Cooper Cobra Radial GT Tire Sizes
175/70 R13
185/70 R13
195/70 R13
205/60 R13
185/60 R14
185/70 R14
195/60 R14
195/60 R14
195/70 R14
205/70 R14
215/60 R14
215/70 R14
225/60 R14
225/70 R14
235/60 R14
245/60 R14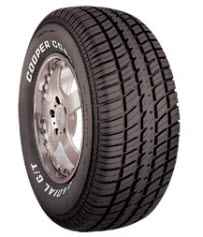 195/50 R15
195/60 R15
195/60 R15
205/50 R15
205/60 R15
215/60 R15
215/65 R15
215/65 R15
215/70 R15
225/50 R15
225/60 R15
225/70 R15
235/60 R15
235/70 R15
245/60 R15
255/60 R15
255/70 R15
265/50 R15
275/60 R15
295/50 R15
215/55 R16
235/55 R16
295/50 R16
275/60 R17
Pros
Classic muscle car look and performance
Very good dry traction handling and control
Above average treadlife
Cons
Some have mentioned that handling on wet pavement could be better
Warranty
Cooper stands behind the Cobra Radial GT with a 50,000 mile treadwear guarantee.
Cooper Cobra Radial GT Tire Coupon