The Continental TouringContact AS tires all-season design and 80,000-mile tread life make it a good option for budget-minded drivers looking for new tires on their coupe, sedan or SUV.
The Touring Contact AS sports a synthetic tread compound for enhanced riding comfort and better overall durability, which is one reason for the 80,000-mile tread life. Independent tread blocks and wider circumferential grooves provide increased traction on dry road surfaces, while also reducing the risk of hydroplaning on wet streets.
Along with a better ride, the Continental Touring Contact also features a computer-optimized pitch sequence which eliminates more of the outside road noise that is often found in other tires. Inside the tread, you'll find twin steel belts with a nylon cap for better strength and stability at highway speeds. An S or T speed rating is also available depending on size.
Overall, for those who are looking to replace their tires with ones that will not break the bank, this set of Continental tires may be a good choice.
Continental TouringContact AS Tires Price Range
Prices on the Continental Touring Contact AS range from approximately $75 for the 15-inch series to around $120 for the larger 17-inch series tires. If you are looking for some other Continental tire click here or here.
Who Are Continental TouringContact AS Tires Designed For?
The Continental Touring AS is primarily used as original equipment on many of today's cars an SUV's. However, it is also available as a replacement tire for almost any vehicle on the road for those looking for an economical all-season radial tire.
Continental TouringContact Tire Sizes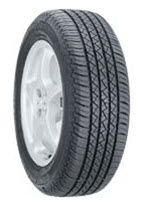 P195/60R15
P225/60R17
P235/55R17
P235/50R17
Pros
Good dry pavement traction and handling
One of the best tire warranties available today
Economically priced for the budget minded driver
Cons
Wet road traction could be better
Winter snow and ice performance needs improvement
Warranty
Continental warrants the Touring Contact AS for 6 years or 80,000 miles, which is among the longest in the tire industry. It also has a on-year or first 2/32 inch guarantee on tire uniformity.
Materials and workmanship are backed for 6 years and includes free tire replacement during the first year or first 2/32 inch of wear, followed by a prorated amount for the remaining time period or until the final 2/32 inch of useable tread depth.
These Continental tires also come with a one-year of first 2/32 inch of wear road hazard warranty, as well as Continental's 30-day satisfaction guarantee. This allows you to exchange the tire with another Continental brand. All in all, this is one of the best warranties on the market today.