The Continental ProContact EcoPluse tire includes the latest in tire technology to give you a tire that not only handles all types of weather and road conditions but is very comfortable and even provides a boost in fuel savings as well.
This all-season radial from Continental has PROactive Edge technology that features increased biting edges for better handling in wet road conditions, while also giving a quieter ride. Unique polymers and Silane in the tread compound is what gives this tire its fuel saving efficiency.
The tire carcass includes twin steel belts which give this model an 80,000-mile treadlife guarantee.
Continental ProContact EcoPlus Tires Price Range
Prices on the ProContact EcoPlus tire range from a low of around $75 for the 15″ series, to approximately $125 for the larger 18″ series tires. Click here for more Continental tires reviews, coupons and prices or other tires manufacturer and dealers.
Who Are Continental ProContact EcoPlus Tires Designed For?
Continental has developed the EcoPlus for drivers of all makes and models of coupes, sedans, minivans and even smaller SUV's and crossovers, who are looking for improved fuel mileage, a comfortable ride, and a very good value for the dollar.
Continental EcoPlus ProContact Tire Sizes
185/60R15
185/65R15
195/60R15
195/65R15
205/60R15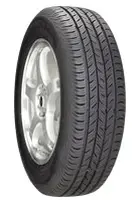 205/55R16
205/60R16
205/65R16
215/60R16
215/65R16
225/60R16
225/60R16
235/65R16
215/60R17
215/65R17
225/50R17
225/60R17
225/65R17
235/55R17
235/65R17
215/55R18
225/50R18
Pros
Very comfortable riding tire that is also extremely quiet
Great value with an 80,000-mile tread wear warranty
Traction is good on both dry and wet pavement
Cons
Drivers have reported only minor fuel mileage savings
Warranty
Continental backs up the ProContact EcoPlus tire with a 6 year or 80,000-mile tread life guarantee. There is also a one year or first 2/32″ of wear uniformity guarantee as well. Materials and workmanship are backed by a 6-year warranty, which includes free first year replacement or first 2/32″ of wear, followed by a prorated amount for the remaining time period.
There is also a one year or first 2/32′ of wear road hazard warranty, which is a nice added touch with this tire. Finally, Continental offers a 60 day customer satisfaction guarantee whereby if you do not like the tire you can exchange it for another Continental model.