Continental ExtremeWinterContact tires not only get you to where you want to go in the harshest of winter weather conditions, but they also provide excellent performance and handling as well. In fact, we put these Continental winter tires right behind the Bridgestone Blizzaks in terms of drivability and overall performance.
The tire itself features an aggressive asymmetrical tread design with a tread compound that delivers superior performance. The unique technology Continental uses makes the tread flexible in all temperature ranges. Instead of becoming hard and unforgiving in the coldest of temps, it will remain flexible and allow you to maintain much better traction than other snow tires. Add to that the independent tread blocks, lateral grooves and added sipes, and you have a tire that provides all you need for the upcoming winter season.
A tread depth indicator built into the tires will let you know when you have reached 50% of the useable life from the tread.
Continental ExtremeWinterContact Tires Price Range
Prices on the ExtremeWinterContact snow tires range from around $60 for the 13-inch series to approximately $190 for the much larger 17-inch series tires. For other Continental tire coupons and reviews click here or find tire from another brand here.
Who Are Continental Extreme Winter Contact Tires Designed For?
Continental has designed the EWC tires for drivers of all types of pickup trucks, minivans, SUV's, coupes, and sedans who are looking for the best in a higher performance snow tire during harsh winter weather conditions.
Continental ExtremeWinterContact Tire Sizes
175/70R13
175/65R14
185/65R14
185/70R14
185/60R15
185/65R15
195/55R15
195/60R15
195/65R15
205/60R15
205/65R15
205/70R15
215/60R15
215/65R15
215/70R15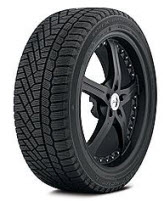 205/55R16
205/60R16
215/55R16
215/60R16
215/65R16
225/55R16
225/60R16
225/70R16
225/75R16
235/60R16
235/75R16
235/85R16
245/75R16
245/75R16
255/70R16
265/70R16
265/75R16
265/75R16
205/50R17
215/50R17
215/55R17
215/60R17
225/45R17
225/55R17
235/45R17
235/55R17
235/65R17
235/80R17
245/65R17
245/70R17
245/70R17
265/65R17
265/70R17
265/70R17
285/70R17
Pros
Ranks only behind Bridgestone Blizzaks in terms of performance
Excellent light and deep snow traction
Very good on wet and slushy pavement
Smooth riding tire without all the road noise
Cons
No real cons with these snow tires
Warranty
Continental tire does not have a tread life warranty on the ExtremeWinterContact, but that is not unusual for snow tires. They do however have a one-year or first 2/32 inch guarantee on tire uniformity.
Materials and workmanship is backed for 6 years and includes first year or first 2/32 inch free tire replacement, followed by a prorated amount for the remaining time period down to the final 2/32 inch of useable tread life.
You will also find a one-year or first 2/32 inch of wear road hazard warranty, which can come in nicely for some. With these Continental winter tires, you have a 30-day satisfaction guarantee in that if you are unhappy for any reason, return the tires and exchange them for another brand from Continental.
Continental Tire recommends you buy a set of 4 of these snow tires at a time for optimum performance and durability.
Continental ExtremeWinterContact Tire Coupon