Continental CrossContact LX EcoPlus tires are built provide solid all-season traction both on the highway or even in mild off-road terrain. Whether planning to use them for long or short drives the LX EcoPlus gives a pleasant ride with added fuel efficiency.
The tread compound on the CrossContactLX EcoPlus utilizes the latest tri-net silica-based compound. This gives the tire enhanced grip in the rain or snow, as well as on dry road surfaces. In addition, the CrossContact has a reduced rolling resistance, which means less fuel consumption and more mileage. The long tread life on the LX EcoPlus sets them apart from others in their class.
In addition to being more durable, the tread design features interlocking sipes which increase traction in rain or slush covered roads. The four wider circumferential grooves work to reduce hydroplaning as well.
Acoustic Alterra Technology integrated into the tire design offers added riding comfort and less noise on the road.
Inside the tire you'll find twin steel belts that reinforce tire strength in addition to a polyester cord body that improves on cushioning, giving you a comfortable driving experience.
To protect your expensive wheels from curb damage, the Continental Cross Contact LX EcoPlus tire is fitted with a protected lower sidewall.
Overall, there's a lot to like about the Cross Contact LX Eco Plus. It has the all-season performance to make driving easier while providing a smooth and more comfortable ride. Add in a 65,000-mile tread warranty and you have a very good option in an SUV, Crossover or truck tire.
Continental CrossContact LX EcoPlus Tires Price Range
Prices for the LX range anywhere between $105 for the 15 inch series all the way up to $221 for the 22 inch LX EcoPlus. Check other Continental tires reviews and prices here or visit our tire section for other tires brands.
Who Are Continental CrossContact LX EcoPlus Tires Designed For?
The CrossContact LX is designed for drivers of sport utility vehicles, crossovers and pickup trucks who are looking for better than average all-season traction and handling to go along with a smooth comfortable ride.
Continental Cross Contact LX EcoPlus Tire Sizes
215/75R15
225/70R15
225/75R15
235/70R15
235/75R15
265/70R15
265/75R15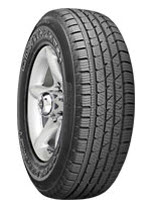 215/70R16
215/75R16
225/70R16
225/75R16
235/65R16
235/70R16
235/75R16
245/70R16
245/75R16
255/65R16
265/75R16
225/65R17
235/60R17
235/65R17
235/70R17
235/75R17
245/65R17
245/70R17
255/65R17
255/70R17
265/65R17
265/70R17
275/60R17
235/65R18
265/70R18
275/55R20
275/60R20
Pros
Traction and grip above average with excellent hydroplane resistance
Ride is quiet and comfortable
Increased fuel efficiency due to lower rolling resistance
Good tread life warranty
Cons
Hard to find anything that prevents buying this model
Warranty
Continental Tires provides a 6 year or 65,000-mile tread life warranty on their CrossContact LX EcoPlus tires. In addition, you'll find a 1 year or first 2/32 inch of wear on the tire's uniformity.
Materials and workmanship and materials warranty are backed for 6years and feature a free replacement during the first year or first 2/32 inch of wear, followed up with a prorated amount down the final 2/32 inch of useable tread life.
Continental CrossContact LX EcoPlus Tires Coupon