Continental Tire has developed the Continental ContiTrac as a versatile choice for all-season traction and performance. Featured as original equipment on some models of light trucks and SUV's, it is also sold as a replacement tire for all types of vehicles.
The ContiTrac tire sports an asymmetrical tread pattern which provides better handling on varied road surfaces, even at low temperatures. The strong shoulder of the tire and the ruggedness make it well suited for better overall braking and stability.
Four large circumferential grooves ensure a minimal risk of hydroplaning in wet weather due to its function of removing water from beneath the tire. It one of the stronger pluses with the ContiTrac. This all-season radial also handles well in light snow and even some light off-road use. That said, it's a different story when it comes to heavy snow or ice. This is not a winter tire by any stretch.
Continental has used its tire technology to ensure that the ContiTrac has a lower rolling resistance, which aids in fuel economy and makes it a more quiet tire. Owners of this tire have appreciated the fact that even at high speeds it has good stability. With its increased durability, the ContiTrac provides a longer tread life, giving you more value for the money.
It's worth noting that Continental gives an option for you to purchase the ContiTrac with a choice of either a black sidewall or raised white black lettering, depending on the size of the tire.
Overall, the Continental ContiTrac Tire offers a good mix of all-season performance and a good tread life, despite the lack of a mileage warranty. It provides a good ride and can be taken off the road as well.
Continental ContiTrac Tires Price Range
Prices for the Continental ContiTrac range from around $145for the 16-inch series tire to approximately $225 for the 18-inch series tires. If you want to check some other Continental tire review or coupon click here or visit our tire section for other tire brands reviews.
Who Are Continental ContiTrac Tires Designed For?
The Continental ContiTrac is designed for drivers of light trucks, SUV's and crossovers who are seeking a tire that has all-season performance and handling to go with a longer tread life.
Continental ContiTrac Tire Sizes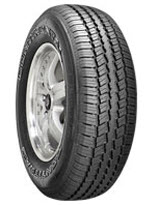 16″
P235/70R-16 104T FRD
17″
LT245/75R17E1FRD121S
18″
P265/70R-18 114S NIS
LT275/70R18E1FRD125S
Pros
Very good traction on dry road surfaces
Good ride comfort
Handles light snow well
Cons
Tires tend to be noisier than other models in its class
Warranty
Continental Tires does not have a tread life mileage warranty on the ContiTrac. However, you will find a one-year or first 2/32 inches of wear on the tire's uniformity.
Materials and workmanship are guaranteed for are 6 years and include a free replacement during the first year or first 2/32 inches of wear. Continental then prorates the remaining time period down to the final 2/32 inches of useable tread depth.
Also included is road hazard warranty for the first year or first 2/32 inch of wear. Finally, you get a 30-day customer satisfaction guarantee where you can exchange the tires for another Continental brand if you are not completely satisfied.
Continental ContiTrac Tires Coupon