Continental ContiPremiumContact tires are known for their quality and performance as original equipment tires on different makes and models of coupes and sedans. What you'll find from this Continental tire is a tread design that provides very good dry surface cornering and handling, as well as wet road traction that is equally as impressive.
The H speed rating is more than adequate for most any driving need, and we've noticed that most drivers say the tread life is good for a tire in this class. The technology used in the tread compound makes this tireless noisy out on the open road and gives you a very comfortable ride in addition.
Due to this Continental model being a summer touring tire, it is not designed for winter weather driving conditions. If you live in a cold weather climate you'll need winter tires when the weather turns to snow and ice.
Continental ContiPremiumContact Tire Price Range
Prices on the ContiPremiumContact tires range from around $110 for the 14-inch series to approximately $400 and up for the larger 19-inch model. If you are looking for another Continental tires review or price click here or try some another tires brand.
Who Are Continental Tires Conti Premium Contact Tires Designed For?
Continental Tires has designed the Conti Premium Contact touring tire for drivers of sport coupes and sedans who are looking for original equipment performance that provides dependable handling and cornering.
Continental ContiPremiumContact Tire Sizes
175/65R14
185/65R14
185/60R14
195/65R14
195/60R14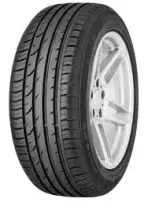 185/55R15
195/65R15
205/65R15
205/60R15
205/50R15
215/60R15
225/60R15
195/55R16
205/60R16
205/55R16
205/50R16
205/45R16
215/55R16
225/55R16
235/60R16
275/50R19
Pros
Excellent dry pavement traction and handling
Wet road performance is above average
Very quiet and comfortable riding tire
Cons
Would like to see it available in other sizes
A bit pricey on the larger sizes
Warranty
Continental Tires does not have a treadwear guarantee on the ContiPremiumContact tire. There is a one-year or first 2/32 inch of wear on the tires uniformity.
You'll also find a 6-year guarantee on materials and workmanship that includes free first-year tire replacement, or first 2/32 inch of wear, followed up by a prorated amount for the remaining time period down to the last 2/32 inch of useable tread.
The company also gives you a one year or first 2/32 inch of wear road hazard warranty, which is nice if you do not have any kind of emergency road service. Finally, Continental has a 30 day period where you can exchange the tires for another Continental model if you are not satisfied.