The Continental ContiExtremeContact tire is one of the top all season performance tires available today. We don't say that lightly, and if you begin reading the driver reviews of this tire you will quickly see that we are not the only ones saying this.
The tire itself features a directional tread pattern that includes what Continental calls, Shark Fin Bio Mechanics. What that really means is that the tire goes through water like a shark and provides a much safer driving experience. But it is not just water that you can driver effortlessly through, it is also snow as well.
Ride comfort is enhanced with twin steel belts and nylon caps that are spirally wound to add more strength and durability to the tire.
Continental ContiExtremeContact Tire Price Range
Prices for the Conti Extreme Contact tire range from a low of around $85 for a 15″ series, to approximately $110 for a larger 16″ series.
Who Are The Continental Tire ContiExtremeContact Tires Designed For?
Continental has designed and developed this tire for drivers of all types of cars, light trucks, sedans, sports cars and other vehicles who are wanting a high-performance all-season tire. Simply put, this is one of our top choices in year-round driving tires. Here you can find more Continental tires reviews and rebates or some other tire brands.
Continental Conti Extreme Contact Tire Sizes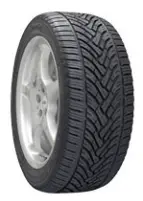 P205/65R15
P225/60R15
P215/60R16
P225/60R16
Pros
One of the better all season radial tires on the market today
Excellent wet and dry traction and handling
Very quiet and comfortable riding tire
Cons
Would like to see this tire come in 17 and 18-inch tire sizes
Warranty
Continental tires stands behind the ContiExtremeContact tire with a 6-year guarantee on materials and workmanship. That includes a first-year free replacement or 2/32″ of wear, followed by a prorated amount for the remaining period.
There is also a 1 year or first 2/32″ uniformity guarantee and they've even added a 1 year or first 2/32″ of wear road hazard warranty as well. Finally, Continental has also included a 30-day customer satisfaction period with each tire sold.