Continental ContiEcoContact EP tires are specially developed and designed to save money on fuel, as well as provide exceptional handling and performance in both wet or dry road conditions. Built for the Smart Fortwo, this tire can also be used on other smaller compacts.
The tire itself features an asymmetric tread pattern and a compound that is enhanced with silica. You'll also find a continuous center rib and solid tread blocks that combine to give the tire better overall handling and cornering abilities.
When the roads are rain soaked the Continental EP doesn't roll over and leave you wishing you stayed home. With circumferential grooves and a unique tread block design, the risk of hydroplaning is greatly reduced.
Inside the tire are twin steel belts that sit atop a polyester body. This gives the tire more strength and more comfort when traveling down the highway. Overall, the Continental Conti Eco Contact EP tire gives performance handling with a smooth ride and comes in at a good price point.
Continental ContiEcoContact EP Tires Price Range
Prices on the ContiEcoContact EP range from around $65 on the smaller 15-inch series tire to close to $90 for the larger 15-inch model. Look here for more Continental tires coupons or try on this tire section.
Who Are Continental Tire ContiEcoContact EP Tires Designed For?
Continental has developed the Conti Eco Contact EP for drivers of small compacts like the Smart Fortwo, Prius, and similar models, who are looking for better performance and more comfortable ride that comes in at a great value.
Continental Conti Eco Contact EP Tire Sizes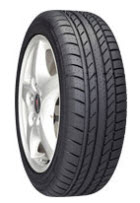 145/65R15
175/55R15
Pros
Dry and wet pavement traction and handling is very good
Treadwear is excellent
Quiet riding and comfortable tires
Great value for the money
Cons
Not sure these tires improve fuel economy
Do not drive on these tires in winter weather
Warranty
Continental does not have a tread life warranty on the ContiEcoContact EP, but it does, however, provide for a one year or first 2/32 inch of wear on the tire's uniformity.
Materials and workmanship are covered for 6 years and include a free tire replacement during the first year or first 2/32 inch of tread wear. They follow that up with a prorated amount for the remaining time period down to the last 2/32 of useable tread on the tire.
Continental Tire also gives its tire customers a 30-day customer satisfaction guarantee. If you are not completely happy with the tire you can exchange it for a different Continental model.
Continental Conti Eco Contact EP Tire Coupon