Bridgestone Potenza S-04 Pole Position tires are designed especially for drivers of high performing sports cars, coupes, and sedans who want a tire to match that performance. The good news is that you will get that in this new Bridgestone model.
This summer tire has an asymmetrical tread design that sports a larger outboard shoulder, tread blocks that interlock and of course, a circumferential rib for enhanced steering control on dry roads. The cornering and stability on this tire at high speeds is amazing.
The tread blocks are designed in two ways: the longitudinal (for stiffness) and the lateral (to avoid hydroplaning). It is also designed with an added circumferential rib that works together with the inner shoulder blocks to reduce noise and wearing.
Inside the tire are dual steel belts that are strengthened by a spiral wrap of aramid or nylon for a better ride quality, speed and most importantly, increased durability. The sidewalls of the tire are equipped with rubber inserts for better cornering grip and a more comfortable ride.
Overall, the Bridgestone Potenza S-04 Pole Position has to be considered one of the best high performance summer tires you will find available today. They grip like glue in the corners and handle wonderfully on wet roads. Yes, they are pricey but the tread life is far above what you might expect from a tire in this class. Highly recommended.
Bridgestone Potenza S-04 Pole Position Tires Price Range
Prices on the Potenza S-04 Pole Position tires range from around $150 on the 16 inch series tire to approximately $300 for the larger sizes in the 20 inch series tires. Here you can find valid Bridgestone tire discount so try to get the best possible price. Or read reviews for tires and try other tires discounts here.
Who Are Bridgestone Potenza S-04 Pole Position Tires Designed For?
Bridgestone has developed the Potenza S-04 Pole Position for drivers of high performance coupes and sedans who seek an ultra-high performance summer driving tire that provides excellent handling and grip on dry or wet pavement, while also giving you a quiet ride and long tread life.
Bridgestone Potenza S-04 Pole Position Sizes
16″
205/55R16 91Y BW
17″
205/45R17XL88Y BW
205/50R17XL 93Y BW
215/45R17XL 91Y BW
225/45R17 91Y BW
235/45R17 94Y BW
235/50R17 96Y BW
245/40R17 91Y BW
245/45R17XL 99Y BW
255/40R17 94Y BW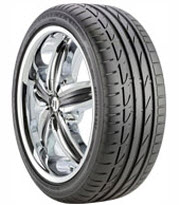 18″
215/45R18XL 93Y BW
225/40R18XL 92Y BW
225/45R18 91Y BW
225/50R18 95Y BW
235/40R18XL 95Y BW
245/35R18XL 92Y BW
245/40R18XL 97Y BW
245/45R18 96Y BW
255/35R18XL 94Y BW
255/40R18XL 99Y BW
255/45R18 99Y BW
265/35R18XL 97Y BW
265/40R18XL 101Y BW
275/35R18 95Y BW
285/30R18 93Y BW
285/35R18XL 101Y BW
19″
225/40R19XL 93Y BW
225/45R19XL 96Y BW
235/35R19XL 91Y BW
245/35R19XL 93Y BW
245/40R19XL 98Y BW
245/45R19 98Y BW
255/35R19XL 96Y BW
255/40R19XL 100Y BW
265/35R19XL 98Y BW
275/35R19XL 100Y BW
275/40R19 101Y BW
285/30R19XL 98Y BW
285/35R19 99Y BW
305/30R19XL 102Y BW
20″
245/40R20XL 99Y BW
255/35R20XL 97Y BW
275/35R20XL 102Y BW
285/30R20XL 99Y BW
Pros
Awesome performance on dry or wet roads
Grip is sticky and steering response is excellent
Tread noise is surprisingly minimal
Tire life is exceptional
Cons
Hard to find any cons with this tire except it can be expensive in larger sizes
Warranty
Bridgestone does not have a mileage warranty on the Potenza S-04 Pole Position as you might expect. However, you will find a first 1/32 inch of wear guarantee on the uniformity of the tire.
Materials and workmanship are covered for 5 years and include free tire replacement during the first 3 years. A prorated amount is then given for the remaining time period until there is less than 2/32 inch of useable tread depth left on the tire.
Bridgestone also includes their 30-day buy it and try it guarantee so that if you are not completely satisfied you can refund or exchange the tires.
Bridgestone Potenza S-04 Pole Position Tires Coupon