The Bridgestone Potenza RE960AS Pole Position tire is Bridgestone's ultra high performance all season radial that offers race car like handling with all season traction. UNI-T AQII technology and a Silica compound in the tread combine to give this tire excellent wet and dry performance.
One of the best benefits that drivers often mention, other than the high performance driving characteristics, is how well the tire handles on wet roads.
A unique dual layer tread to go with aqua tread grooves work together to channel water out from under the tire, giving you added confidence when the weather turns to rain, slush or light snow.
Bridgestone Potenza RE960AS Pole Position Tire Price Range
The Potenza Pole Position ranges in price from around $75 for the 14″ series, up to around $330 for a massive 285/30R20.  Get the Potenza RE960AS Pole Position Bridgestone tire coupons below (if exist), or find another tire discounts and reviews here.
Who Is This Bridgestone Tire Designed For?
The AS Pole Position tire from Bridgestone is designed for drivers of sports cars and sedans who are looking for a serious ultra high performance all-season tire.
Bridgestone Potenza RE960AS Pole Position Tire Sizes
185/60R14
195/60R14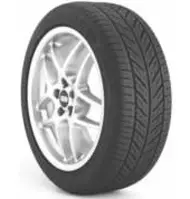 215/55R16
225/50R16
225/55R16
225/60R16
245/50R16
185/65R15
195/60R15
195/65R15
205/60R15
205/65R15
215/60R15
205/55R16
205/40R17
215/45R17
215/50R17
225/45R17
225/50R17
235/45R17
235/50R17
245/40R17
245/45R17
255/40R17
225/40R18
225/45R18
225/50R18
245/40R18
245/45R18
255/40R18
255/45R18
265/35R18
265/40R18
275/35ZR18
275/40R18
225/40R19
235/35R19
245/35R19
245/45R19
255/40R19
275/30R19
275/40R19
295/30R19
245/35R20
255/35R20
275/30R20
275/35R20
285/30R20
Pros
Excellent traction on both wet and dry pavement. Gets highest government traction rating
Tires ride smooth and quiet
Treadwear is very good
Cons
Not the best in areas that see heavier amounts of snow
Warranty
The Bridgestone Potenza AS Pole Position comes with a 5-year / 40,000 mile treadwear warranty, as well as a first 1/32″ wear uniformity warranty. In addition, Bridgestone tires has a 5-year materials and workmanship guarantee and a 30 day buy and try it offer.
Bridgestone Potenza RE960AS Pole Position Tire Coupon