Bridgestone Potenza RE760 Sport tires provide excellent handling and impressive performance for any of today's sport coupes or sedans. But the Potenza RE760 Sport is not just all about high speed performance, it also gives a quiet and comfortable ride that will surprise most any driver.
On the outside of this model you'll find an asymmetric tread design that features the UNI-T technology that Bridgestone has made so popular. A 3-D center block and unique shoulder design provides more contact with the road surface, which enhances high speed cornering and improves traction at any speed on dry pavement.
Wider grooves in the tread give better grip on wet roads and more driver confidence behind the wheel.
Inside the tire are twin steel belts made of high tensile steel that are nylon wrapped to provide more strength and stability at higher speeds, while also giving you a much more comfortable ride without all the road noise.
Overall, this is an excellent choice for high performance summer driving tires. It gives you what you expect from a W speed rated tire, while also providing a surprisingly comfortable riding experience. Bridgestone has come up with a winning combination.
Bridgestone Potenza RE760 Sport Tires Price Range
Prices on the Bridgestone RE760 range from around $100 for the 16 inch series to a high of approximately $270 for the massive 20 inch series tires. If there is a valid Bridgestone tire rebate coupon for this tire, it will be shown below the text. Here you can find more tire coupons and reviews.
Who Are Bridgestone Potenza RE760 Sport Tires Designed For?
Bridgestone has designed the Potenza RE760 for drivers of high performance sports cars, coupes and sedans who want one of the best performing and handling summer driving tires available today.
Bridgestone Potenza RE760 Tire Sizes
195/55R16
205/45R16
205/50R16
205/55R16
215/55R16
225/50R16
225/55R16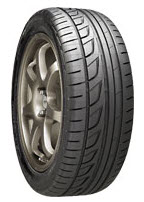 205/40R17
205/45R17
205/50R17
215/45R17
215/50R17
225/45R17
225/50R17
235/45R17
245/40R17
245/45R17
255/40R17
265/40R17
275/40R17
215/35R18
215/45R18
225/40R18
225/45R18
225/50R18
235/40R18
235/45R18
245/35R18
245/40R18
245/45R18
255/35R18
255/40R18
255/45R18
265/35R18
275/35R18
275/40R18
295/35R18
225/45R19
235/35R19
245/35R19
245/40R19
275/30R19
275/35R19
245/35R20
255/30R20
255/35R20
275/30R20
285/30R20
Pros
Dry traction handling and cornering is among the best in its class
Steering response and braking is superb
Tire is surprisingly comfortable and road noise is nearly non-existent
Above average wet pavement traction and low risk of hydroplaning
Cons
Can not be driven when conditions turn wintry
Warranty
Bridgestone Tires does not have a tread life warranty on the RE760 Sport tire. However, there is a first 1/32 inch of wear guarantee on the tire's uniformity.
Materials and workmanship are backed for 5 years and call for a free replacement tire during the first 3 years. This is followed up with a prorated guarantee for the remaining time period or until there is just 2/32 inch of useable tread left on the tire.
You'll also get Bridgestone's exclusive 30-day buy and try guarantee whereby you can either refund or exchange the tires for another Bridgestone model if you are not completely happy with your purchase.
Bridgestone Potenza RE760 Sport Tires Coupon