Bridgestone Potenza RE-11 tires are developed with the latest in high performance tire technology to give drivers impressive handling and control in both dry and wet weather conditions. With technology taken from Formula One tires, the RE11 features a 3D seamless stealth technology.
The large tread blocks on the outside of the tire give excellent cornering capabilities, while circumferential grooves remove more water from under the tire to guard against hydroplaning. An asymmetric tread design that is unique in how it distributes its footprint give the tire more performance on the street or at the track.
Bridgestone Potenza RE-11 Tire Price Range
The Potenza RE-11 ranges in price from approximately $130 for a 15″ series to more than $300 for 19″ series. Below you can find Potenza RE-11 Bridgestone tire discount or you can try other tires discounts and reviews here or read our blog.
Who Is The Bridgestone RE-11 Designed For?
Make no doubt about it, Bridgestone has designed the RE11 tire for drivers looking for serious performance handling, grip and control on their sports cars, coupes and sedans.
Bridgestone Potenza RE-11 Tire Sizes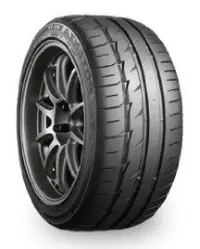 195/50R15
205/50R15
205/45R16
205/55R16
225/50R16
205/45R17
205/50R17
215/45R17
225/45R17
235/40R17
235/45R17
245/45R17
255/40R17
215/45R18
225/40R18
225/45R18
235/40R18
245/40R18
245/45R18
255/35R18
265/35R18
275/40R18
225/40R19
235/35R19
245/35R19
245/40R19
255/35R19
265/35R19
275/30R19
285/35R19
305/30R19
Pros
Phenomenal handling and traction
Very attractive tread design
A race track tire designed for street use as well
Cons
Don't even think about driving in winter weather conditions with this tire
Warranty
Bridgestone backs up the Potenza RE-11 with a 5-year materials and workmanship warranty. It provides free replacement first 3 years and then the remaining tread is prorated. As you would expect with this type of tire, there is no tread-life or road hazard warranty.
Bridgestone Potenza RE-11 Tire Coupon