The Bridgestone Insignia SE200 tire combines solid all-season traction with great value for the budget minded driver. The tread design of the SE200 gives it a 65,000 treadwear life as well due to a unique L.L. Carbon black.
The tire itself features a symmetric design and UNI-T technology to go along with a silica added tread compound. This combines to give this Insignia better overall performance on rain soaked roads with lower risks of hydroplaning. The all season capabilities of this radial tire allow for good handling and stability.
Price Range
The Insignia SE200 tire ranges in price from approximately $50 for a 13″ series to a little more than $100 for a 17″ series tire. Check Insignia SE200 Bridgestone tire coupon below or get discounts from other tire brands here.
Who Are Bridgestone Insignia SE200 Tires Designed For?
Bridgestone has designed the Insignia SE200 for owners and drivers of sedans and economy type vehicles. Due to its lower price and higher value, it's also a good option for the budget conscious.
Bridgestone Insignia SE200 Tire Sizes
175/70R13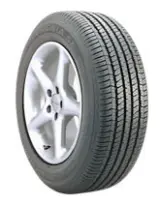 175/65R14
175/70R14
185/65R14
185/70R14
195/70R14
185/60R15
185/65R15
195/60R15
195/65R15
205/65R15
205/70R15
215/65R15
215/70R15
235/75R15
195/55R16
205/50R16
205/55R16
205/60R16
215/60R16
215/65R16
225/60R16
225/65R16
235/60R16
235/65R16
215/55R17
215/60R17
215/65R17
225/50R17
225/65R17
235/60R17
Pros
Outstanding value for the money
Very good handling and response on dry pavement
Above average comfort for its class
Cons
Does not do as well in snow and ice as we would like
Warranty
Bridgestone Tires backs up the Insignia SE200 tire with a 5-year or 65,000 treadlife warranty. There is also a first 1/32″ of wear uniformity guarantee and a 5-year materials and workmanship warranty. It calls for free replacement for the first 3 years, followed by a prorated amount over the final 2 years. Finally, Bridgestone has a 30-day buy and try it guarantee as well.
Bridgestone Insignia SE200 Tire Coupon