The Bridgestone Expedia S-01 tire combines a Z speed rating to go with awesome handling and cornering abilities to produce an ultra high performance summer driving tire. How good is this tire? The fact that it is original equipment on the Ferrari F348 pretty much sums it all up.
The aggressive tread design provides incredible dry road performance. Cornering power is among the best tires in its class, while wet pavement stability is also way above average.
Bridgestone Expedia S-01 Tires Price Range
Prices on Bridgestone Expedia tires range from a low of around $215 for the 17″ series, to above $300 on the 18″ models. Get the best tire price with Bridgestone coupon below, or find another printable tire coupons here.
Who Are Bridgestone Expedia S-01 Tires Designed For?
Bridgestone has designed the Expedia S-01 tires for drivers who own high performance sports cars and coupes and desire the best in traction and handling.
Bridgestone Expedia S-01 Tire Sizes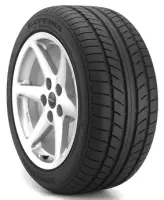 205/50ZR17
255/45ZR17
285/40ZR17
225/40ZR18
245/40ZR18
245/40ZR18
265/35ZR18
265/40ZR18
265/40ZR18
Pros
Handling and cornering on dry pavement is about as good as you'll find in a tire
Wet pavement traction is very good
Minimal road noise even during high speed cornering
Tire was selected for use as original equip on Ferrari F348 – that says it all
Cons
Limited sizes – would like to see 16″ and 19″ sizes
Not for winter driving conditions
Warranty
Bridgestone tires provides no tread wear warranty on the Expedia S01, but you will find a first 1/32″ of wear uniformity guarantee. There is also a materials and workmanship guarantee for 5 years or until 2/32″ of tread life remains. It calls for a free replacement during the first 3 years, followed by a prorated amount for the remaining time period.
Bridgestone includes their 30 day buy it and try it guarantee whereby they will allow you to get a refund or exchange the tires for other models if you are not satisfied.
Bridgestone Expedia S-01 Tires Coupon