The Bridgestone Ecopia EP100 tire is one of the few environmentally friendly tires manufactured today. It's a summer touring tire, so don't expect to use it in cold winter weather climates. One of the biggest drawing points with this model is the increased fuel economy due to the lower rolling resistance built into the tread compound.
The tire itself features Bridgestone's newest NanoPro Technology inside the compound. An asymmetric tread pattern includes unique 3D circumferential ribs on the tread block that helps eliminate the road noise. Lateral grooves in the tread work to reduce hydroplaning and increase braking, keeping you in control on wet road surfaces.
Tread life, as well as dry pavement handling and traction, are improved through Bridgestone's Consistent Surface Contact technology in the tread block design.
Bridgestone Ecopia EP100 Tires Price Range
Prices on the Bridgestone EP100 range from around $80 for the 14 inch series, to approximately $200 for the much larger 17 inch series. Here you can find Bridgestone tire coupons so try to get the best possible price. Or try other tires discounts here.
Who Are Bridgestone Ecopia EP100 Tires Designed For?
Bridgestone has designed Ecopia EP100 tires for drivers of various makes and models of coupes and sedans who are looking for a summer driving tire that handles and performs well, and offers a little better fuel economy at the same time.
Bridgestone Ecopia EP100 Tire Sizes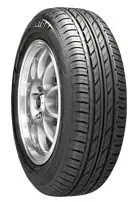 15″
185/65R-15 88H BW
Pros
Riding comfort is very smooth and comfortable
Lower rolling resistance improves fuel economy with this tire
Good traction on both dry and wet road surfaces
Environmentally friendly tire
Cons
Very limited number of available sizes
Cornering could be better
Warranty
Bridgestone tires backs the Ecopia EP100 with a 5 year or 50,000 tread life guarantee. You'll also find a first 1/32 inch of wear guarantee on tire uniformity.
Materials and workmanship are backed for 5 years and include a free replacement tire during the first 3 years, after which time it will be prorated until the final 2/32 inch of useable tread depth.
Bridgestone also provides their 30 day buy and try guarantee whereby you can get a full refund or an exchange on another Bridgestone model if you are not satisfied with your purchase.
Bridgestone Ecopia EP100 Tire Coupon