Bridgestone Dueler H/L Alenza tires are ideal for drivers of crossover, sport utility vehicles and light duty pickup trucks. As a high performance all-season tire, this Bridgestone model utilizes the latest in tire technology to provide a tire that not only performs well in all conditions, but does it with a high level of comfort as well.
All models of the Dueler H/L Alenza feature Bridgestone's unique UNI-T technology that enhances comfort and stability on dry or wet road surfaces, but select sizes incorporate Bridgestone's all new UNI-T AQ11 technology.
This newest tread technology features a dual layer tread compound that prevents the rubber from hardening after thousands of miles of wear. The longer you drive on the tire an extra layer of high grip rubber is exposed to create somewhat of a new tire tread. The results are impressive as the tire gives increased grip and performance in wet weather, as well as improved cornering and traction on dry surfaces.
The symmetrical tread pattern on the Bridgestone Dueler H/L Alenza is designed to reduce noise and give you a much more comfortable ride. The larger shoulder blocks and center ribs on the tire provide improved stability and steering response. Circumferential grooves, along with the lateral groves and sipes increase grip on wet or snow covered roads, giving it true all-season performance.
Inside the tire you'll find twin steel belts strengthened by a spiral wound nylon wrap (for H-, V- as well as W speed rates sizes) that give the tire increased support and added stability at higher speeds.
Overall, the Bridgestone Dueler H/L Alenza is a quality performance all-season tire. It features some of the newest tire technology that combine provide excellent stability and response in all types of road and weather conditions. With a solid tread warranty it offers good value for the dollar.
Bridgestone Dueler H/L Alenza Tire Price Range
Prices on the Dueler H/L Alenza range from around $156 for the 15 inch series tires to approximately $285 for the larger 22 inch series. Get the Bridgestone coupon below (if exist), or find all other printable tire discounts.
Who Are Bridgestone Dueler H/L Alenza Tires Designed For?
Bridgestone has developed the Dueler H/L Alenza for SUV's, crossovers and light trucks for drivers who want an all-season tire that not only offers high performance traction and stability, but also rides comfortably and comes with an excellent tread warranty.
Bridgestone Dueler H/L Alenza Tire Sizes
15″
P235/75R-15 105T OWL
P265/70R-15 110H BW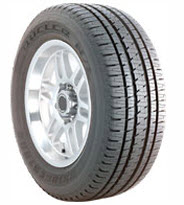 16″
P215/70R-16 99T OWL
P225/70R-16 101T OWL
P225/75R-16 104T OWL
235/70R-16 106H BW
P235/75R-16 106T OWL
P245/70R-16 106H BW
P245/75R-16 109T OWL
255/65R-16 109H BW
P255/70R-16 109T OWL
265/70R-16 112T OWL
P265/75R-16 114H BW
P275/70R-16 114H BW
17″
225/65R-17 102H BW
235/65R-17 104H BW
P245/65R-17 105H BW
P245/65R-17 105T OWL
255/60R-17 106H BW
P255/75R-17 113T BW
P265/65R-17 110T OWL
P265/70R-17 113T OWL
P265/70R-17 113H BW
275/55R17 109V BW
P275/60R-17 110H BW
18″
235/55R-18 100V BW
P235/65R-18 104T OWL
265/60R-18 110V BW
P265/65R18 112T OWL
P265/70R18 114T OWL
275/60R-18 113H BW
P275/65R-18 114H BW
P285/60R-18 114H BW
19″
255/55R-19 111V XL B
P255/60R-19 108H BW
20″
255/50R-20 109V XL B
P255/55R-20 107H BW
P265/50R-20 106V BW
P275/45R-20 106V BW
P275/55R-20 111S BW
P275/55R-20 111H TOY
P275/60R-20 114H BW
22″
275/45R-22 112V XL B
P285/45R-22 110H CAD
Pros
Very stable with excellent steering response
Dry and wet pavement traction is far above average for this class of tire
Tire is very comfortable
Very good tread warranty
Cons
As the tire gets older it tends to become a bit noisier at lower speeds
Warranty
Bridgestone warrants the Dueler H/L Alenza with a 5-year or 65,000 mile (or 40,000 miles for the W rated) tread life guarantee. Tire uniformity is guaranteed for the first 1/32 inch of wear as well.
Materials and workmanship are backed for 5 years and include a free tire replacement for the first 3 years of wear. Bridgestone then prorates out the amount for the remaining time period until there is less than 2/32 inches of useable tread depth left on the tire.
Bridgestone Dueler H/L Alenza Tire Coupon