Bridgestone Blizzak WS70 tires are among the top of the class for navigating through light snow, deep snow, ice, freezing rain, slush, and other harsh winter weather conditions. They do this without sacrificing a smooth and comfortable ride or excessive road noise.
The tire itself features Bridgestone's unique Nano-Tech Multicell Compound which is silica-enhanced and gives the tread its superior traction in any type of severe winter weather. 3D sipes add more stiffness to the tread blocks and provide better-wet pavement performance. Four deep tread grooves reduce the risk of hydroplaning and channel water away from the tire, while the optimized directional tread width gives optimal contact with the road and provides improved braking.
On the inside, Bridgestone uses twin steel belts that are wrapped spirally with nylon for added strength and durability at higher speeds, as well as improving the ride and lifespan of the tread.
Overall, we can't say enough about how well this Bridgestone WS70 performs in the snow and on the ice. You'd be hard-pressed to find a better grip in a snow tire. Ride quality is excellent and the treadwear is good.
Bridgestone Blizzak WS70 Snow Tires Price Range
Prices on the Blizzak WS70 range from around $90 for the 15-inch series to approximately $180 for the larger 18-inch series tires. Below you can find Blizzak WS70 Bridgestone tire discount or you can try other tires discounts here.
Who Are Bridgestone Blizzak WS70 Tires Designed For?
Bridgestone Tires has designed the Blizzak WS70 for drivers of all types of coupes, sedans, crossovers, and minivans who are looking for the best traction and handling you can find in a snow tire for driving in light or deep snow, ice and other winter weather conditions.
Bridgestone Blizzak WS-70 Tire Sizes
185/60R15
185/65R15
195/60R15
195/65R15
205/65R15
215/70R15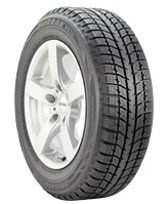 205/55R16
205/60R16
205/65R16
215/55R16
215/60R16
215/65R16
225/60R16
225/65R16
235/65R16
205/50R17
215/45R17
215/50R17
215/55R17
215/60R17
215/65R17
225/45R17
225/50R17
225/55R17
225/60R17
225/65R17
235/45R17
235/55R17
235/60R17
235/65R17
245/45R17
215/55R18
225/45R18
225/55R18
225/60R18
Pros
One of the best snow tires in light or deep snow as well as on ice
Very good traction on wet pavement
Riding comfort is excellent with little road noise
Treadlife is better than average
Cons
Would like to see a little better cornering ability, but this is not a major issue
Warranty
Bridgestone Tires does not have a tread life mileage warranty on the Blizzak WS70. You will, however, find a tire uniformity guarantee for the first 2/32 inch of tread wear.
Materials and workmanship are backed for 5 years and are simply prorated based on treadwear all the way down to the last 2/32 inch of usable tread on the tire.
Bridgestone Blizzak WS70 Snow Tires Coupon