Bridgestone Blizzak LM-60 tires take high performance snow tires to a new level. For drivers of higher end sport coupes and sedans, this is a serious contender, if not the winner of the best snow tire on the market.
Basically, the LM60 takes the Blizzak WS-60 design and infuses it with a silica tread compound to give it incredible traction and handling in all conditions and temperatures not found in other snow tires. A directional tread pattern that is M+S rated, sports independent tread blocks, 3-D sipes and a unique tread compound.
Inside the tread you'll find twin steel belts that are nylon wrapped to give this tire more strength and stability, especially at higher speeds. It also provides a smoother ride on snow or dry pavement. Overall, we like this snow tire. Bridgestone has incorporated a winning tread design into a high performance winter driving tire that works.
Bridgestone Blizzak LM-60 Snow Tires Price Range
Prices on LM 60 Blizzaks range from around $170 for the 17 inch series to approximately $340 for the larger 20 inch series tires. Cut your cost with Bridgestone discount coupon below, or find other discount tires coupons here.
Who Are Bridgestone Blizzak LM-60 Tires Designed For?
Bridgestone Blizzak LM60 tires are built for high performance coupes and sedans for drivers who are wanting the best in wet and dry winter weather traction and performance.
Bridgestone Blizzak LM-60 Tire Sizes
215/45R17
225/45R17
235/45R17
235/50R17
235/55R17
245/40R17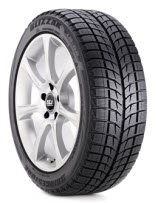 215/45R18
225/40R18
225/45R18
225/50R18
225/60R18
235/45R18
235/50R18
245/40R18
245/45R18
255/40R18
255/45R18
265/35R18
275/35R18
225/40R19
225/45R19
235/35R19
245/40R19
245/45R19
255/35R19
255/40R19
255/50R19
265/35R19
275/35R19
275/45R19
245/40R20
245/45R20
245/50R20
255/35R20
255/45R20
255/50R20
Pros
Light or deep snow traction is simply incredible
Impressive wet or dry pavement traction and handling
Tires ride comfortably
Excellent tread wear for a snow tire
Cons
Can experience a little noise on dry pavement at highway speeds
Warranty
Bridgestone Tires does not have a mileage warranty on the Blizzak LM60 tire. However, you will find a first 1/32 inch of wear on the tire's uniformity.
Materials and workmanship are backed for 5 years and prorated during this time to final 2/32 inch of useable tread life on the tire.
Note: Bridgestone Tires advises the Blizzak LM-60 to be purchased in sets of four. This is mainly due to getting the best traction and performance out of the tires.